April Fools' day is now upon us. We need to be vigilant against the most common threats. The most common threats have been taken from Forever State College Media.  We have taken the risks, put them in the PRC Enterprise Risk Register and implemented mitigation strategies to get through this high-risk holiday..

List of risks per Forever State College Media – https://www.foreverstatecollege.com/2019/04/01/the-8-most-common-april-fools-day-pranks/
Mind game pranks, like rearranging someone´s furniture and pretending nothing looks out of the ordinary.
Scare tactics, like putting a fake spider on a person´s chair.
Lying pranks, like telling your significant other you´re pregnant.
A prank phone call.
A food-related prank, like toothpaste in an Oreo.
A "make things inaccessible" prank, like putting a stapler in Jell-O.
An elaborate prank that you film for YouTube.
A "toilet humor" prank, like cellophane on a toilet seat or putting fake poop in someone´s coffee.
When I saw "poop in someone's coffee," I realized there is no stronger case for mitigation on the planet. I originally missed the word "fake" and I was truly stunned for a moment.  I was laughing so hard that I could not reread the list for longer than I would like to admit.  I spent the first ten minutes of April Fools' day thinking that putting feces in someone's beverage was a common threat.  I hope that never becomes reality as I'm sure it would break all sorts of international law!
I have created a risk scoring system which I will include in the article.  II have mitigated this list of threats personally. If someone pranks me, then I want it to be an "unknown unknown" and not something I should have documented and mitigated.
A risk scale was put in from one to eleven based on one to ten being being intuitive for people to rate risk. One might say, "On a scale from one to ten, the threat is a seven."
Eleven was used instead of ten because sometimes a risk is a little bit more: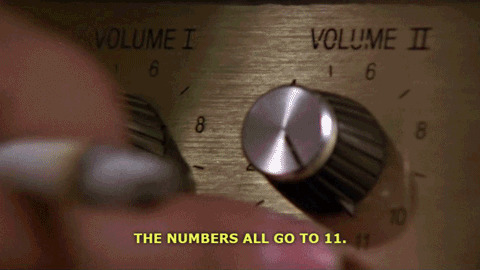 The full report of the Analysis was generated directly from the PRC Enterprise Risk Register and is included below.  A matching PowerPoint slide deck was exported and included for presentation purposes.
Side Note:
I would  also suggest that you take the self-quarantine thing very seriously for today if you are not already doing so. Please don't drink any coffee you don't trust!